The Internet has once again burst into flames of rumors and speculation about Apple's very imminent release of the next version of its desktop operating system, OS X 10.8, Mountain Lion. Because I am eligible for a free upgrade on my new Mac, I am pretty excited as well. Here are all the reasons why we can be certain of Mountain Lion's release in a couple days.
Apple announced the upcoming version of OS X
quite a while back
. Apple seems to be preparing for launch on Wednesday, July 25th in most of the western hemisphere.
Apple has announced a July release
On the Mountain Lion website, Apple talks about its release in July all over. The month is also coming to an end, so the release must be very close.
Gold Master release to developers
Mountain Lion has been available for testing to developers in the Apple Developer Program for the let several months. The final, Gold Master release of the OS has also been seeded to them. This happens immediately before final release, and this version is almost identical to the final.
US and overseas Apple stores are doing overnights on July 24
9to5Mac
has heard
that many Apple stores are having their employees stay overnight on the day before, which may be a hint as well. Employees will be installing demo copies of Mountain Lion on all the hardware on display.
AppleCare employees have been given Mountain Lion
9to5Mac
also reports
that the Golden Master release was seeded to AppleCare reps for installation on their main work machines with a Mac App Store redeem code.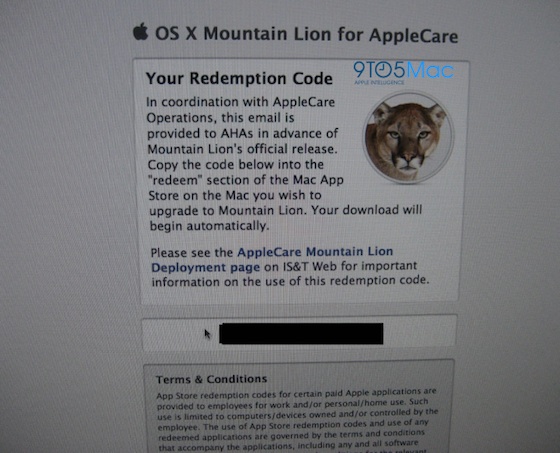 Mountain Lion will also be exclusively available through the Mac App Store, just like the current version. Even system updates will come through the App Store.
Mountain Lion will be priced at $19.99 only, to owners of compatible systems. This is a lot cheaper than Windows 8 (
about to be released on October 26
), based on the information we have at the moment.